Purveyor of Pleasure
Supporting Member
KAMLOOPS! I am super excited to announce that I have completed all my travel arrangements to leave Nanaimo and visit your city all next week. Bringing along my natural sex appeal that is always a bit naughty with a whole lot of nice.
There is no need to ramble on about what I aim to do, nor do I claim to be the best at anything I do and just allow my reputation to precede itself. In this case, you may find my reviews, ads and comments right here on PERB, in the Nanaimo section.
I will be offering my consensual GFE along with my Nuru massage encounters. Taking prebookings and inquiries now via email. I am already looking forward to meeting some new gentlemen.
Availability:
*I arrive 9pm Monday, Feb 22 and may offer availability that evening and depart early morning Friday, Feb 26. PLEASE, check my Kamloops Escort backpage ad for up to date availability.
Time, Donations and Sessions:
*GFE; 200/hh, 300/hr, 400/90mins. If interested in any additional time, including overnight, please inquire via email.
*Nuru Massage; 45mins/250, 300/hr, 350/90mins.
Contact Miss Lady Vanessa by email:
[email protected]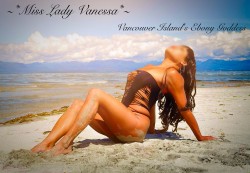 I am a published mature model